The U.S. Government's Customs and Border Protection (CBP) announced more available appointments for noncitizens through their CBP One app to 1,450 per day, a 45% increase from May 2023.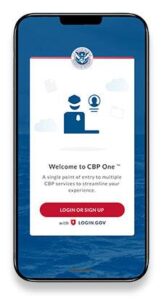 The CBP One App is positioned as a "safe, orderly, and humane lawful process" for noncitizens noncitizens to access ports of entry, where CBP Officers receive advance information for screening and vetting.
However, the app has been criticized as being complicated, and not consistently opening or freezing. Migrant rights activists also say the app is still rife with problems, including its lack of language options. Users have also complained about the facial recognition technology, with some users with darker complexions saying that the app does not capture their facial image, blocking them from even being able to register through the app.
According to CBP, from May 12 through June 23 more than 49,000 noncitizens entered border ports of entry through scheduled CBP One™ appointments, while unlawful entries between ports of entry declined by 64 percent. Noncitizens can schedule appointments CBP One™ using a two-step process: they first request appointments at any point during a 23-hour period each day and, if allocated an appointment, have another 23-hour period to confirm that appointment.
The app allocates the majority of appointments randomly to those who requested an appointment at each port of entry. The remainder are allocated to the requestors with the oldest accounts who have been waiting the longest for an appointment.
The TASBIA™
Bottom Line
On October 28, 2020, U.S. Customs and Border Protection (CBP) launched the CBP One™ mobile application on the Apple App and Google Play stores. The app is now the mandatory method to apply for asylum, which puts significant pressure on the system to work well under challenging circumstances.
Although the goal of the app is to provide a streamlined and fairer system, the app has raised privacy, discrimination and surveillance concerns. Amnesty International is concerned that facial recognition and GPS technologies, along with cloud storage, are used to collect data on asylum seekers before they enter the US.
The use of appointment scheduling technology is generally a positive trend for many governmental agencies, but combining this with Personally Identifiable Information (PII) puts the onus on the government to use this information responsibly.
See Press Release "CBP One Appointments Increased to 1,450 Per Day"