New System replaces Reserve with Google for Tours and Activities
Today, as previously reported, Google is transitioning Tours & Activities from Reserve with Google to a more direct approach.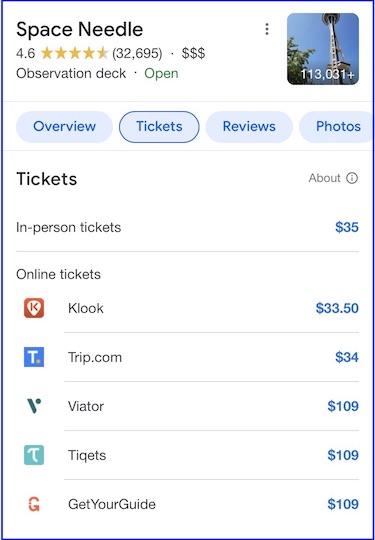 For example, if you do a Google search for "Space Needle" and select "Tickets" you will see a link to "In-Person Tickets", plus a variety of options for booking through vendors including Klook, Trip.com, Viator, Tiqets, and GetYourGuide.
With the new tickets feature Google does not use Reserve with Google to process the bookings. Instead, they display links for various pricing options and pass users directly to either official websites or third parties. With this approach, the official websites of the locations may get additional direct traffic from Google for free.
According to industry sources, the free links directly to attractions' websites through Google's web-scraping activities were "a big shock to third-party tours and activities tech providers because they expected to play a larger role in the new feature."
The tickets feature is located in Google Search and is hasn't currently been imported to Google Travel, which features hotels, vacation rentals and flights as a travel section of Google.
"We're piloting the introduction of ticket booking links on Google Search, so users can easily compare options for visiting their favorite attractions," a Google spokesperson said.
The Reserve with Google "phase out" started today with the mobile experience, and is expected to also include desktop searches over the next few weeks.
Dennis Schaal of Skift noted that "eventually, Google's new Tickets feature may turn out to be one of the most important developments in a long time for the tours and activities sector. Google will certainly move to monetize the feature with paid ads, and it will ultimately expand to tours, and other products, too."

  Read the full Skift article