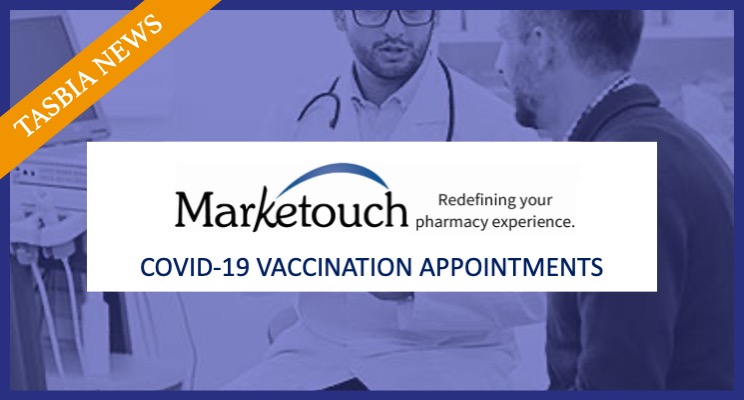 MarketTouch provides Cub Pharmacy and Giant Pharmacy chains with COVID-19 Appointment Scheduling; Giant scheduled over 50,000 vaccine appointments in 6 weeks.
MarkeTouch, a provider of solutions for retail pharmacies, is providing appointment scheduling for COVID-19 vaccination appointments. As a current provider to the pharmacies, this minimizes disruptions to the workflow, provides easy customer access, and supports social distancing measures at the store level.
The scheduled appointment availability is based upon staff, vaccine inventory, and COVID requirements. MarkeTouch scheduling software has built-in tools to ensure patients show up to their appointments which are critical for series immunizations such as COVID. MarkeTouch's current clients were able to immediately add COVID vaccination appointments to their scheduler.
Two pharmacy chains that have implemented the solution include:
Cub Pharmacy (41 locations). Aaron Sapp, Cub Director of Pharmacy said, "Cub has utilized the mobile-friendly MarkeTouch scheduling solution since 2013. We were easily able to add COVID-19 vaccine to our solution and begin taking appointments within days."
Giant Eagle Pharmacy (216 store locations). Jim Tsipakis, Executive Vice President of Pharmacy for Giant Eagle, stated, "As the leading healthcare provider in the markets we serve, Giant Eagle pharmacies have been diligently preparing for months as we anticipated the arrival of COVID-19 vaccine. To provide the best patient experience, we knew we would need to find a vaccine scheduling solution that had the ability to handle enormous inquiries for customers that wanted the vaccination. We chose the MarkeTouch Media scheduling system for the robust features, experience scheduling multi-dose vaccinations, and the ability to incorporate the system into our current operational workflow.
During the initial 6 week period Giant scheduled 50,000 COVID-19 vaccine appointments, with a total of nearly 1 million queries for vaccine appointments. MarkeTouch claims that they have scheduled a total of 500,000 appointments on behalf of customers, with a large number of queries, without impacting the platform's stability.
The TASBIA™
Bottom Line
MarkeTouch has provided a scheduling solution for retail pharmacies for over 10 years. Given that, they have adapted the current solution to leverage CDC-related COVID-19 appointment scheduling recommendations and requirements. This minimizes disruptions to the pharmacy workflow, as well as leveraging existing systems and customer information.
In general, appointment scheduling vendors are stepping up to support COVID-19 vaccinations programs. As states, regions, hospitals, grocery stores and pharmacy chains scramble to provide appointments under increased pressure, they are finding that repurposing or extending existing systems can be a cost-effective and efficient way to provide vaccination appointments.
Many vendor's vaccine appointment pages were initially overwhelmed by high volume, so MarkeTouch is promoting their ability to handle a large volume of traffic without impacting the customer experience. They, like all other vendors, cannot immediately satisfy all users if vaccine supply is limited, but at least can keep the servers running.
See MarkeTouch Press Release (16 Feb 2021) for more information