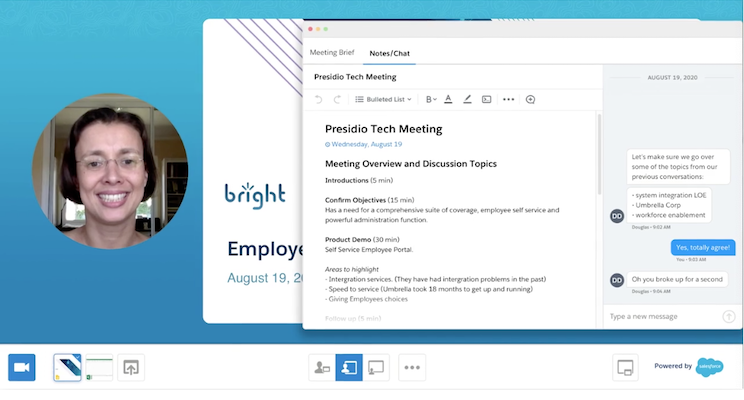 Salesforce's offerings for the Sales Cloud 360 platform are positioned to help users better manage work and virtual meetings. It's good timing, as COVID-19 has created an environment of "work from home all the time" for sales reps. And, as many reps outfit their home offices with multiple monitors, lighting, and backdrops, the new Salesforce offerings take advantage of this new normal.
My focus here is on the "Salesforce Meetings" product announced in September 2020. It was presented alongside Salesforce Maps Field Safety Kit, Enhanced High Velocity Sales and Einstein Video Call Coaching as part of a packaged announcement.
A Brand-New Set of Capabilities for Appointment Scheduling
In an interview with TechRepublic Doug Camplejohn, Salesforce GM and EVP Sales Cloud, said that Salesforce Meetings brings "a brand new set of capabilities" to help sales reps be more productive.
Does this mean that Salesforce Meetings is based on a completely different technology base? Or does it layer "on top of", or borrow technology or database structures from Lightning Scheduler, which is currently positioned to "schedule customer appointments for your business."
Another question is how this solution will sync to Gmail and Outlook. This "sync" capability is vital to success, and historically challenging, especially with large-scale Exchange environments. Will it rely on the existing Lightning Sync, or will there be new technology that integrates syncing calendars, contacts and events, or perhaps use more of Einstein Activity Capture? We don't know the answer, but Salesforce is already doing a deeper dive with Zoom, so tighter integration with Microsoft and Gmail calendars may be possible in the future.
Works with Existing Video Conferencing Vendors
An interesting element of Salesforce Meetings is the ability to work seamlessly with popular video conferencing systems including Zoom, Cisco Webex, Google Hangouts, etc. Salesforce is taking pains not to compete head-on in the video conferencing market. Rather, their system takes input from the user's camera and then displays a "composite view" similar to the approach used in broadcast television.
The user can display their "talking head" along with presentations and other information that is formatted for viewing by the audience. It's also a way for Salesforce to highlight the Lightning user experience and provide flexibility to users.
So, looks like we'll all need two displays (or a laptop plus monitor) to make the best use of Salesforce Meetings. By design, the user would want to designate one display for the audience, and a second display to take notes, do research, or chat via Salesforce Anywhere (although a user could use Slack or any other chat tools, of course).
Enhanced Calendaring View
In terms of the calendar appointment itself, Salesforce Meetings shows whether the internal attendees, as well as those outside of the organization have "Accepted" the RSVP.
It's not clear if this is done from a scheduling element built into Meetings, but the ability to view this list as part of the Meeting Brief screen is helpful.The new solution enables users to prepare for meetings, for example, bringing up a history of the interaction (Sales Cloud), any service issues (Service Cloud), and generally view alerts associated with the user or company via the Einstein window.
Once the call is over Meetings provides automated "action items" and call notes that reps can access through the chat component. The product will pull meeting attendee data from Outlook and Gmail, and if the user is not in Salesforce it will suggest to add them. However, automatically adding attendees to the CRM within the same "Company" is not provided at this time, which is something that other solutions already do.
Combining Meetings with Video and Audio Analysis
By using Salesforce Meetings with Einstein Video Call Coaching, users get an "end to end" way to prepare, present, and follow-up to a meeting. Einstein Video Call Coaching analyzes both audio and video from a meeting. Unlike Meetings (which only sets up the calls), Einstein Video Call Coaching requires direct access to the video content, and at launch will only support Zoom.
The TASBIA
Bottom Line
Will Salesforce Meetings become the "scheduling solution" for Salesforce reps to present to customers next year? Will it be sold alongside or replace Lightning Scheduler, which was initially developed for industry verticals such as financial services? Or, perhaps provide an alternative to Salesforce Inbox, which is still promoted as "a suite of applications that brings together two platforms you use every day: email and Salesforce."
However it goes, it's clear that Salesforce is continuing to invest in the Appointment Scheduling area. The features announced also seem to address gaps against Microsoft Teams, and could overlap or potentially complement existing solutions by appointment scheduling vendors.
Salesforce Meetings is expected to be available in pilot October 2020, and to be generally available February 2021. You can register for the pilot at https://www.salesforce.com/form/sales/salesforce-meetings/
Learn more about Salesforce Lightning Scheduler.