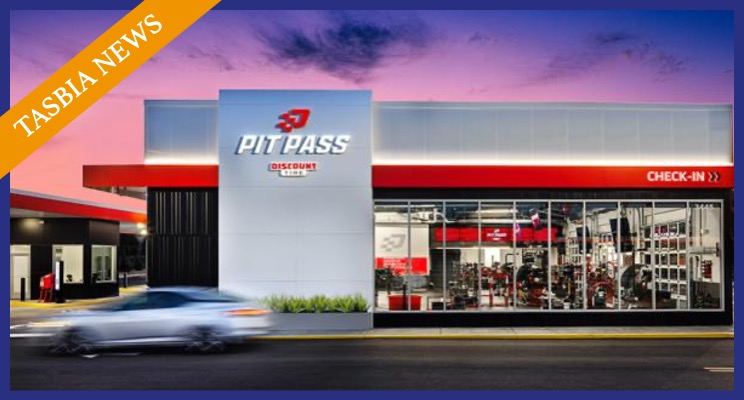 Retail chain Discount Tire has launched a mobile-focused, drive-thru experience called Pit Pass. The launch is inspired by racetrack pit crews, and offers customers a drive-through experience where they can stay in their car from start to finish for all of their tire and wheel needs. Customers are encouraged to shop for tires and wheels online and to book an appointment in advance using the Discount Tire mobile app or website to save time.
The Discount Tire Pit Pass concept store is laid out differently from a traditional tire shop. As customers enter a drive-thru lane with a covered canopy, they are greeted by an employee to confirm the services scheduled and are then guided by the employee and digital displays to one of three bays. Similar to a racetrack pit crew and fully visible to the customer, technicians use embedded tire scanners that evaluate tread depth and tire condition and Zebra mobile devices to complete services. Digital displays give each customer's vehicle status in real time and allow tire technicians to share updates and product or service recommendations. The entire experience enables customers the option to remain in their vehicle.
The store also offers a new experience for customers who need their tire pressure checked. With after-hours functionality, customers can receive a digital readout of their tire conditions from the displays in the drive-thru experience and make informed decisions about tire maintenance, replacement, or scheduling a service appointment.
"Our goal is to meet the busy lifestyle of today's modern customer and get them taken care of faster and with more personal convenience," said Tom Williams, chief experience officer, Discount Tire. "The new Pit Pass concept store is a great testament to innovation that follows putting the customer first, just as we have done for decades to offer an inviting, easy, and safe experience."
The digital displays in the drive-thru experience give customers access to Discount Tire's exclusive tire guide, which can provide customers with a self-guided experience and the same personalized recommendation they would receive from an associate.
The TASBIA™
Bottom Line
Discount Tire operates more than 1,100 stores in 37 states, and many already use the existing centralized appointment scheduling solution on their website to set up traditional bookings.
Discount Tire's new concept capitalizes on the buy-online trend for tire and wheel purchases. In essence, it's a beta test for providing a novel way to meet customer needs with a new store layout and workflow. Ultimately, Pit Pass is a concept that aims to change the traditional service experience for customers.
Discount Tire has had integrated appointment scheduling on their website for several years, and also incorporated the scheduling system used by Tire Rack, the 2021 acquisition, which was a direct-to-consumer tire retailer and distributor.
For more information see the Press Release