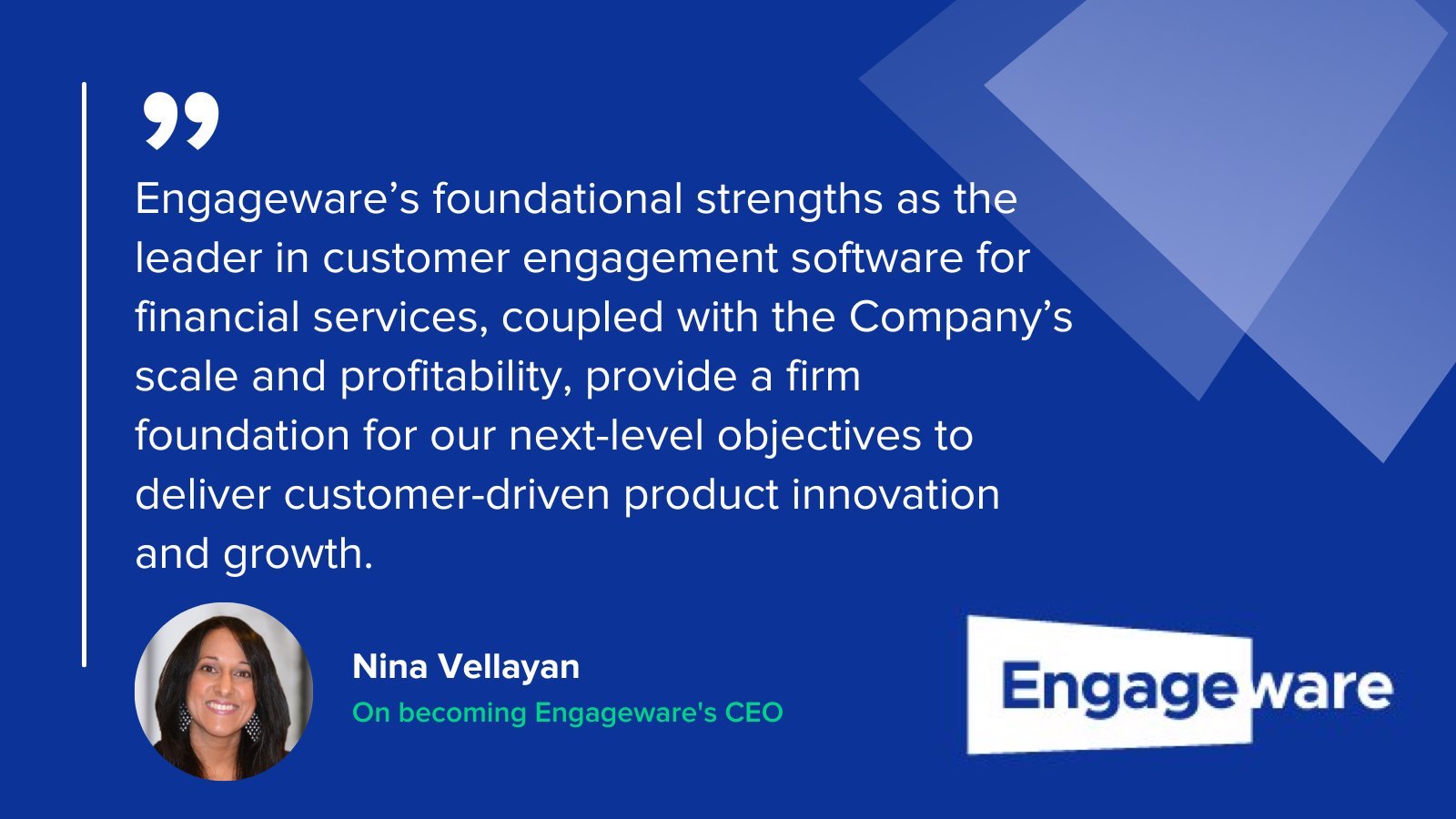 Engageware announced that it has appointed Nina Vellayan as Chief Executive Officer (CEO) of the customer engagement and appointment scheduling company. Vellayan brings more than 25 years of experience in leading software and technology businesses, with a focus on the financial industry.
According to the Engageware press release, the company expects Vellayan's approach and leadership style to "further propel Engageware's ability to scale to meet market demand as the company reports record annual recurring revenue and profitability."
"We are thrilled to welcome Nina as CEO of Engageware," said Michelle Noon, Chair of the Board and Co-Founder and Managing Partner at Clearhaven Partners. "Nina is joining at a pivotal point in the company's growth trajectory and her passion, experience and commitment to excellence are critically important to Engageware's continued success. Nina's infectious energy and drive will have an immediate positive impact to motivate our talented teams along the journey. Her experience scaling SaaS organizations efficiently aligns well with our corporate objectives. As Engageware enters a new phase of growth and development, Nina's leadership will play a tremendous role in building upon the company's leadership position in customer engagement software to position the company for success well into the future."
The TASBIA™
Bottom Line
Engageware continues to position itself as a provider of customer engagement for financial institutions, with a continued focus on selling to mid-market banks and credit unions. This move away from its heritage as an appointment scheduling company continues, although an estimated 80% of its revenue still derives from appointment scheduling products and services.
Engageware's new CEO is the first to come from the financial services industry. Prior to joining Engageware, Vellayan held positions including as CEO of Xeeva, CEO of FrontStream Payments, COO of Official Payments (Nasdaq: OPAY), and divisional President at Sallie Mae (Nasdaq: SLM). It will be interesting to see if additional hires come from the industry, alongside the former team from Silvercloud.
See Press Release, Engageware Appoints Software Veteran Nina Vellayan as Chief Executive Officer (December 14, 2022)