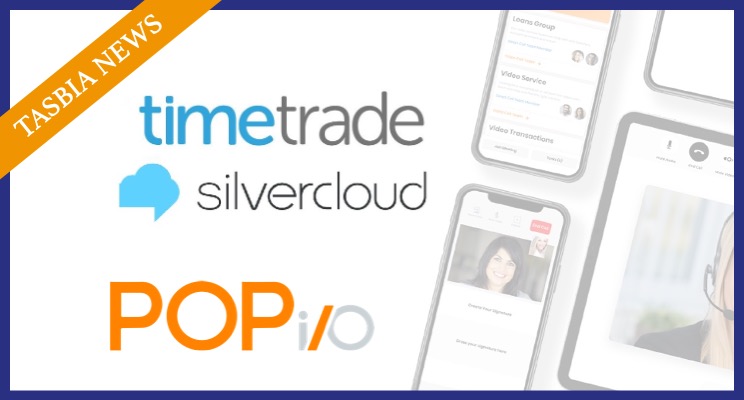 TimeTrade SilverCloud, an appointment scheduling provider, and POPi/o Mobile Video Cloud, a video banking technology provider, have announced a partnership to serve financial institutions. The integration will allow customers to schedule virtual meeting appointments with banking staff.
By integrating their two systems, end user customers can schedule financial services appointments such as loan applications, in-video consultations and secure document exchange, with their bank or credit union via video, chat or phone at a time and place that is convenient. The companies claim that the out-of-the-box integration can be configured within minutes.
According to TimeTrade SilverCloud CEO Bill Clark, "Over the last year, our customers and the nearly 12 million appointments their customers booked with them taught us that account holders want the ability to conduct their banking at a time that is suitable for them and safe for everyone. Integrating with POPi/o enables users to easily bank at their convenience through secure and safe video chat."
"Integrating POPi/o's video banking technology with TimeTrade SilverCloud's appointment capabilities will take scheduling to the next level for our customers," said Jed Taylor, President of POPi/o. "Through this partnership, we are able to make it easy and efficient for customers to use both services, allowing banks and credit unions to provide highly secure video conferencing and easy-to-use appointment scheduling that will improve overall customer and member satisfaction."
The TASBIA™
Bottom Line
TimeTrade Silvercloud continues to focus on the Financial Services vertical following on the acquisition of SilverCloud by TimeTrade in January 2021. The TimeTrade platform has increasingly added tighter integrations with consumer video providers such as Zoom, but by working with POPi/o they are focusing on more secure and feature-rich video solutions suited to an embedded mobile app use case.
POPi/o Mobile Video Cloud is a leader in video banking and collaboration technology, with a focus on financial branch video software solutions. Their video communication and collaboration tools include features such as screen sharing and document signing capabilities, which are critical to banks and credit unions.
This type of announcement signals that appointment scheduling vendors are doubling down on vertical markets, and ensuring that the customer is not required to do their own integrations. Rather, their vendors of choice will have already provided integration as part of the solution, ensuring faster rollouts, end-to-end security, and a more stable solution.
Source: TimeTrade SilverCloud, POPi/o Partner to Enable Financial Institutions to Deliver Exceptional Customer Experiences