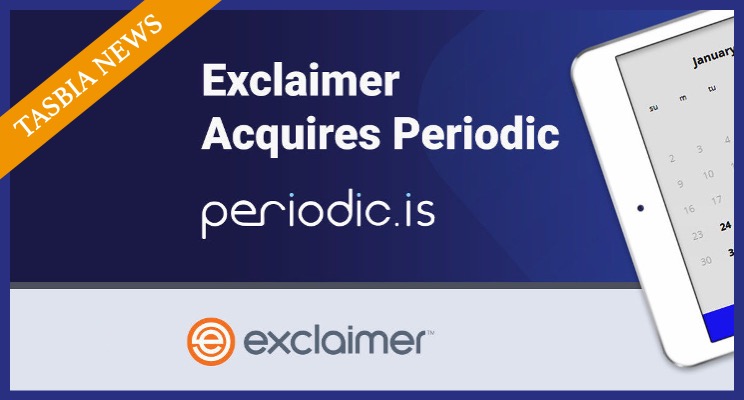 Acquisition enhances Exclaimer's email signature management solution.
UK-based Exclaimer Group announced the acquisition of Periodic, a provider of calendaring and appointment scheduling software. Terms of the deal were not disclosed.
According to the press release, the acquisition enables Exclaimer to enhance its offerings through additional integrated functionality to its email signature solution.
Using Periodic's SaaS platform, Exclaimer hopes to strengthen its product offering by providing a streamlined booking option for customers to use within their email signatures.
Periodic's existing feature-set provides the following benefits:
Easily book, reschedule, cancel, and adjust appointments at the click of a button from within corporate email signatures
Tailor appointment links to suit the needs of all industries and cater for a wide range of customer requirements, all while maintaining consistent company branding
Universally apply links across all corporate email through the server-side deployment of signature templates
Exclaimer's platform allows companies to optimize the use of corporate email signatures to streamline sales, marketing, and inter-company relations efforts. It also builds on the
February 2021 acquisition of Customer Thermometer
which enabled users to integrate feedback and surveys within email signatures.
The TASBIA™
Bottom Line
Periodic is a Bloomington, Indiana based company founded in 2015 by Brad Wisler, who is an entrepreneur as well as a government leader in the Bloomington, Indiana community.
Periodic's focus has been on enterprise software tailored to specific use cases, and specifically with systems whose core functioning requires advanced booking and scheduling features including the ability to build forms, send messages and process payments. Typically, their customers are managing multiple locations and coordinating schedules of large teams. They also have integrated e-commerce "book and purchase" services.
By acquiring Periodic, Exclaimer stated that it wants to embed additional features into its existing product, allowing customers to optimize revenue opportunities available in their email signatures by driving booked meetings. As a UK-based company, the acquisition of the Periodic will also allow Exclaimer to expand sales and marketing efforts in North America.
Periodic will now tightly integrate its booking platform with Exclaimer's email and survey management tools. At this point, it's not clear if Periodic will continue to offer a "standalone" solution without the Exclaimer integration. Recent acquisitions in the industry have often resulted in appointment scheduling becoming an integrated feature of the acquired company platform, with direct sales of the acquired solution discontinued.
See Exclaimer acquires Periodic for more information