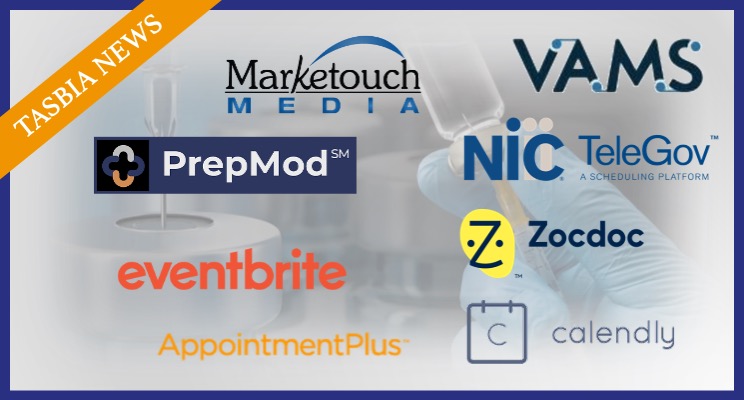 MarkeTouch, VAMS, PrepMod, NIC Telegov, AppointmentPlus, Eventbrite, ZocDoc & Calendly provide COVID-19 vaccination appointment solutions.
Appointment Scheduling vendors are stepping up to support COVID-19 vaccinations programs. As states, regions, hospitals, grocery stores and pharmacy chains scramble to provide appointments under increased pressure, they are choosing new systems or repurposing those already in use.
Many vaccine appointment pages were initially overwhelmed by high volume, or the inability to offer any open appointment slots due to limited vaccine supply. Some locales have already started to move away from the traditional "healthcare focused systems" and chosen general purpose appointment scheduling solutions instead.
Who is Providing Solutions Today for COVID-19 Vaccination Appointment Scheduling?
In many cases, multiple and overlapping solutions are offered within a state, county or city. Here are a list of known current offerings:
MarkeTouch Media provides solutions for retail pharmacies and grocery stores that offer vaccination appointment scheduling including Giant Eagle, Cub Pharmacy, Food Giant and many others. Their Health & Wellness Scheduler minimizes disruptions to the pharmacy workflow, providing paperless customer access, and supports social distancing measures at the store level.
Vaccine Administration Management System (VAMS) was developed by Deloitte for $44 million for the CDC, and was plagued by early problems. Notwithstanding the early complaints, a Deloitte spokesperson said that over one million appointments have already been booked through VAMS. The US CTO Immunization Gateway Report lists Delaware, Louisiana, Maryland, Mississippi, New Hampshire, Philadelphia (PA), West Virginia, Arkansas, Kansas, Missouri, Oregon, North Dakota, and Utah using the system, with recent reports stating that 10 states are using the solution. As an aside, Deloitte said that they also will offer a separate custom solution available directly to states and localities.
PrepMod, a multi-state partnership, provides an online clinic management and appointment scheduling system developed in Maryland. As an early pioneer, PrepMod is already familiar to many state, county, and non-profit healthcare providers. PrepMod provides features such as multi-lingual capabilities essential for many jurisdictions. Like VAMS, PrepMod had early challenges providing vaccine appointments due to high volumes. States using PrepMod include Alaska, Maryland, Virginia, Washington, North Dakota, Pennsylvania, California, Massachusetts, Minnesota, and Rhode Island, with recent reports stating that 27 states are using the solution.
NIC Telegov (NASDAQ: EGOV) provides scheduling to states and local municipalities. Historically, their systems have provided scheduling for activities such as DMV appointments and unemployment agencies, but now they have extended their solution for COVID-19 vaccinations. Currently the vaccination appointment solution is available in Alabama and Mississippi.
AppointmentPlus announced that their enterprise appointment scheduling software had booked over one million COVID-19 vaccine appointments. Large pharmacy chains in the U.S., as well as numerous local health departments and other vaccine administrators, are now using the software to allow those they serve to book online. Examples of AppointmentPlus locations include Costco Pharmacy, Desoto County Florida, and Charlotte, North Carolina's Mecklenburg County Health Department.
Eventbrite positions itself as a self-service ticketing platform for live experiences. The company was the Florida Department of Health's choice to provide counties with a solution to offer appointments through its interface. Within 24 hours of launching the Eventbrite solution in Brevard County, every vaccination slot for the first vaccine shipment was taken. Eventbrite has now updated their home page with a link to "how to sign up for a COVID-19 vaccination appointment," which directs users to a US government FAQ Page, but not to specific appointment sites.
Calendly, a well-known solution for personal appointment scheduling, has been chosen by individual counties and regions that need a quick-and-easy way to get vaccines out. Similar to AppointmentPlus and Eventbrite, Calendly is being chosen even though it is not strictly a "health care" focused solution. The system is popping up across the country, with locations including multiple counties in Missouri, Washington County, WV, Greenville, TX, Hillsborough County, FL, Buckeye Hills, OH, Prescott, AZ, Lee County, FL.
Zocdoc, the New York City-based online medical appointment booking service, has traditionally provided a marketplace app for users that allows them to find and book doctors. Recently, Zocdoc was chosen in Chicago as the platform to offer real-time views of vaccine appointment availability from city sponsored locations, as well as from care organizations like AMITA Health, Erie Family Health, Innovative Express Care and Rush University Medical Center.
Home grown solutions are also being used to solve the scheduling problem. For example, Walgreens, Rite-Aid, CVS, and other chains are all using systems that were already in place. These are being re-purposed to offer vaccine appointments. Some of these solutions are cumbersome and less than ideal for users. For example, requiring a "Walgreens Account" to schedule a vaccine appointment requires answering questions unrelated to vaccination, and results in being put on a marketing list a user may not want to be on.
The TASBIA™
Bottom Line
When we get to Phases 2 and 3 in the United States, tens of millions of people will require vaccinations. This is a 10x increase in appointment volume. It will require a massively scaled scheduling effort, above and beyond where we are now. Right now, the process for users to find locations and schedule vaccine appointments is broken, and it will only get worse.
In a previous post, "COVID-19 Vaccination Appointment Scheduling: How Reserve with Google Can Make it Better," we propose that Reserve with Google become the single "user interface" for users to find nearby vaccine appointment sites and schedule an appointment. Scheduling vendors should work with the Google Maps team to make their vaccine appointment inventory visible on Reserve with Google.
---
Note: This article will be updated as additional information is made available. Last update January 4, 2022.